Poudre school district
secondary high school summer school 22/23
Elementary School Parents - Please contact your Home School for Information
FOR PSD STUDENTS - Free - No Fee
Session 1: online Only
Classes will be available on 
Monday, April 3 - 8:00 am | Thursday, May 25 – 3:00 pm 
We will accept registrations for Session 1: Wednesday, March 1 | Thursday, May 11 (May 4 for PE)
No Extensions
Session 2: Online Only
Thursday, June 1 - 8:00 am 

|

 Thursday, June 29 - 3:00 pm
We will accept registrations for Session 2: Friday, May 12 | Thursday, June 15 (June 8 for PE)
No Extensions
We will send out Orientation emails to your PSD Email starting May 30
Students may sign up for multiple classes but will complete only one at a time.
---
Please read through the 
Summer School Information on the green bar above 
before Registering for classes. 
(On a mobile device, click on the top menu to view the Information Pages)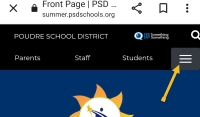 Students will need:
To check out school laptops and chargers from their home school - Please contact your school counselor for instructions
Access to high-speed Internet - PSD will provide a laptop and/or a MiFi device (portable Internet hotspots that enable students to engage in online/remote education) If students/families need a MiFi device due to insufficient internet connectivity in the home, please work with your home school counselor this Spring
Current access to PSD Email - Login and make sure your password works, your start email will be sent here
Students completing the 8th grade may take these classes for high school graduation credit.
Students NOT currently or pre-enrolled in PSD may take classes for a flat fee. Please contact the Summer School Office at 970-488-4970 or bkatz@psdschools.org for additional information.
Interested students should check with their home school counselor to make sure they sign up for the right courses and sign out a laptop.

https://summer.psdschools.org/

Online Summer School Counselor: 970-488-4948 office| 970-692-4089 cell

Online Summer School Office: 970-488-4970